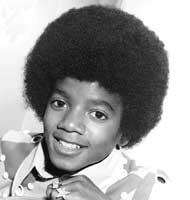 The news of MJ's passing sure made the rounds of the internets damn fast yesterday. I was amazed at how quickly word started getting out and how people tried to come to terms with the news. I was surprised, although I shouldn't have been, at just how much of a pop culture touchstone he remains to this day, even with those younger than us 80s babies who didn't necessarily come up with him as we did. I thought about penning a large ode, but let's face it, I'm way too lazy. I will say that I'm feeling a lot less cynical about the man today than I was a while ago when Joe, Frank and I talked about it a few years back. I think slate.com's Jody Rosen sums up my feelings pretty well when he writes, "If there is a silver lining to Jackson's untimely death, at age 50, it's how we've been snapped out of our fixation on Jackson's lurid life to concentrate again on his art."
Part of that silver lining has been re-listening to a lot of MJ's post-Thriller output and being able to seperate the artist from his work, and just enjoying some good songs in their own right while not having to judge them as not living up to the Thriller standard.
Anyways, as is customary with the passing of important musical figures, we start out the show with a small Michael Jackson set. Then we get back into the normal rhythm of things, and then a summer drive or riding set, before rolling to a different drum with some ragga jungle.