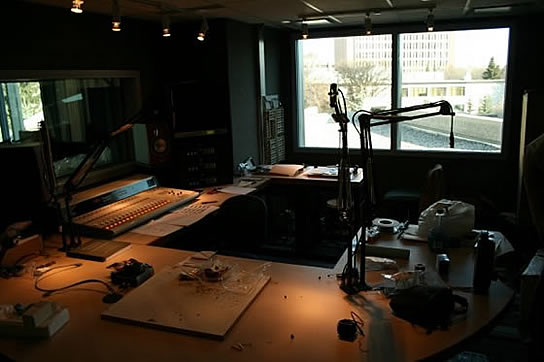 Well, we finally made it into our new studio space. It's only two floors up, but it's a world of difference! Huge thanks to our Station Manager, the inimitable Chad Saunders, without whom I doubt this could have been accomplished. Of course, this is also due in no small part to the generous support of our listeners, so give yourselves a hand as well.
Anyways, I'm definitely taking more than a minute to get used to the new digs. The board is laid out backwards from the old one downstairs, and the DJ tables are a few steps from the mixing console (Not pictured above, but they're below the window at right), so it's a bit trickier to segue from the turntables to other media. But other than those minor complaints, this new space kicks serious ass.
This week on the show, we were spotlighting drum'n'bass and dubsteb ahead of the Blu Mar Ten and Rusko shows which happened on the 21st. I didn't hear about the Blu Mar Ten show, but apparently the Rusko show was bananas. If I could've been in 3 places at once, I would definitely have checked out both shows while holding down my regular Saturday residency. Good thing I'm having so much fun at The Spread, or else I might feel like I'm really missing out.
Here's the show: