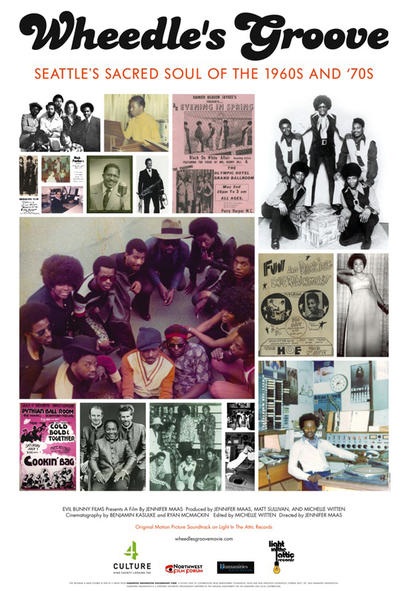 Starting the show out tonight with a nod to the 30th anniversary of John Lennon's death by playing a few Beatles-inspired tunes – A rarity here on the Fat Beat Diet. Personally, I have little attachment to the band. Regardless, The Budos Band re-interpret the classic Day Tripper, turning it inside out, or rather back to front, for Reppirt Yad. Then the Overton Berry Trio rework Hey Jude into a slow building funk monster. The Overton Berry Trio featured a bit in the music documentary Wheedle's Groove, which I happened to watch the other night. The doc centers on the relatively obscure Seattle funk and soul scene of the 1970s and I highly recommend it if you're a music documentary buff like me. It totally made me wish I could travel through time and catch one of those shows back in the day. Since I had that music scene on my mind, I played a few other pieces of music mostly taken from the excellent releases Light In The Attic records have put together highlighting this forgotten scene.
A bit later in the show, we've got a few other blasts from the (not so distant) past in the form of Jamiroquai and Son of Bazerk (which I've already briefly touched on). I found the former's latest album Rock Dust Light Star surprisingly satisfying. The band's always done a good job of keeping on top of music industry trends (and just a step shy from fads), from the early acid jazz days to their house-tinged millenial output to this album, which plays on both soul revival and electro sounds.
Towards the end of the show, I dropped Rhythm Heritage's Theme From SWAT via 3rd Bass. This TV show theme song remains one of the funkiest TV theme songs ever.
With the recent death of Leslie Nielson on my mind, I got my 70's TV cop dramas mixed up, confusing the semi-serious S.W.A.T. for its sendup Police Squad, which is the one which actually starred Leslie Nielson, a precursor to the Naked Gun movies which catapulted him to fame as the goofy Lt. Frank Drebin.

I once spent a childhood spring break watching Police Squad on VHS. Anyways, onetime host of Cocktails with Claire (which aired years ago on Saturday afternoons on CJSW) and current hot dog slinger extraordinaire Jon Truch was kind enough to call in to the show and point out the error, but not in time for me to mention it on air.
A pretty long-winded intro, but here's the show.
Too late! File removed (mp3 – 55Mb)
(Playlist)