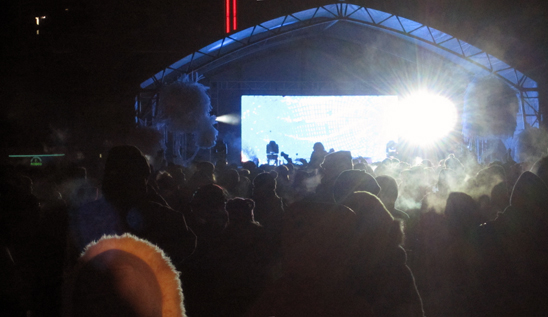 Ahead of the free RJD2 show at Olympic Plaza on January 15th, I thought I'd play some RJD2 at the start of the show. One of my favourite producers I'm a big fan of his wistful hip hop beats. I didn't know how busy the show would be on acount of the positively frigid temperatures going on in Calgary, but thankfully, attendance was amazing — the place was packed. I can just picture the artist's dread as he's sitting on the plane and the pilot announces something along the lines of '…and current temperature in Calgary is a balmy -24 deg C…' Calgary represented though, and RJD2 responded in kind. I would've liked to have seen more artists, but damned if I was spending more than one hour standing outside…
Anyways, after playing some RJD2 beats for half an hour, I had to hit you with some hip hop and funk.
Too late! File removed (mp3 – 55Mb)
Playlist after the jump.

The Fat Beat Diet – January 13th, 2011
CJSW 90.9FM
Mixed/Hosted by Marco Primo
artist – name [time]
RJD2 – Work [09:59:41 PM]
J-Walk – Another Lover (RJD2 Remix)
RJD2 – Heaven
RJD2 – One Day
RJD2 – June
RJD2 – Tin Flower
Soul Position – Priceless
O.V. Wright – We're still together
Eddy Senay – Cameo
The Meters – Here Comes The Metermen
Damu The Fudgemunk – Don't Do It (Featuring Insight) [10:31:14 PM]
heatwave – ain't no half steppin'
Damu The Fudgemunk – DC Joint (Ward 4 Version)
Roll Deep – Let It Out
Dizzee Rascal – Fix Up, Look Sharp
Too Short Feat Snoop dogg – Keep Bouncing (Will.i.am production)
Supercat – Ghetto Red Hot (remix)
Cutty Ranks – Limb By Limb
buju banton – Champion vs Shaba Ranks (Remix)
cutty ranks – who seh me dun
kenny dope – Don Da Da
Das Efx – They Want FX
Brand Nubian – Punks Jump Up To Get Beat Down (instrumental) [11:00:10 PM]